I8this
Super Duper Contributor
Mark as New

Bookmark

Subscribe

Email to a Friend
http://www.theregister.co.uk/2018/04/18/talktalk_most_moaned_about_isp_again/
Guess who's still most moaned about UK ISP... Yup, rhymes with BorkBork No, BT and Plusnet, you're not off the hook either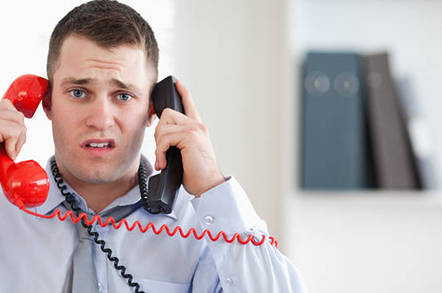 Despite efforts to return to its roots as a broadband-only biz, TalkTalk remains the most moaned about ISP in the UK, according to data from regulator Ofcom.
TalkTalk scored highest out of the top seven providers, with 31 complaints per 100,000 customers – a slight increase on last quarter.
The main reasons for customer complaints were faults and other problems with TalkTalk's services, quarterly data from between October and December reveals.
Last year TalkTalk announced it was ditching its mobile service to concentrate on its core broadband business and began notifying mobile customers of this in January.
Yet the firm has so far shown no signs of improving its poor track record in this space. TalkTalk was also named worst ISP in the last biannual survey of providers by consumer charity Which? for the fifth time in a row.
The Register asked TalkTalk what it is doing to address its consistently bad record for customer complaints. The biz pretty much wheeled out the same excuse as last time.
"We always strive to provide the best possible experience and are disappointed by these results," a spokesperson said. "Ofcom's historical data reflects a short period last year which coincided with the closure of our contact centre in India. The move was part of a major investment to improve our services but caused some temporary disruption for customers."
It added: "We continue to roll out service improvements, including new online tools to help customers resolve issues more quickly and conveniently."
Closely behind TalkTalk were the usual suspects, BT and Plusnet – both on 27 complaints per 100,000 customers.
BT and Vodafone drew the most complaints about mobile services, and BT also received most complaints about pay TV. For both, customers' gripes centred on complaints handling, billing, prices and charges.
Ofcom said it had received nearly 300 complaints a day from consumers about TV, mobile and landline services.
Telcos have been attempting to improve their customer service. Vodafone has invested £2bn upgrading its networks since 2015 after an IT *@#][!![]'#[@#]!*-up sparked a billing fiasco resulting a record fine of £4.6m. It has also brought 2,100 customer service bods in-house.
EE is also bringing 1,000 customer service operator jobs in-house, and BT has hired 1,500 call centre staff in the UK and Ireland. ®
If case you have forgotten the Do's and Don'ts. There are members that have. Remember:-Be yourself and tell it like it is,. Be courteous to other customers. Give others the benefit of the doubt. Update your community profile.
beejayeff
Participant
Mark as New

Bookmark

Subscribe

Email to a Friend
THe offshore call centres are absolutely useless. The staff barely understand any near technical queries. Example: Called to say I was having problems with my VPN Client on all platforms, iOS on iPhone, iPad and Windows 10 laptop. Was told they would book an OpenReach engineer. Explained that an engineer had visited the week before and the line was not the problem. Then was told that "We do not support VPN"
🤔
. Asked to speak to someone technical and was told that the call centre do not have access to technical resource. Asked to speak to a supervisor and was told they would not accept my call. GAVE UP in frustration and after some further research found the TalkTalk community forum online. Posted a question and within an hour a TalkTalk OCE (Online Customer Executive) had solved the problem.
Verdict: Telephone support is worse than useless for anything remotely technical. They religiously stick to the same rigid script and will not deviate.
Online Forum is excellent with helpful customers sharing knowledge and TalkTalk OCEs with sound technical knowledge and, more importantly, language and common sense skills.
Quick addendum: a couple of days after my initial call an OpenReach engineer called at my house to investigate my line fault despite me telling the Call Centre there was no problem with the line. His first words were, "I cannot find anything wrong with your line". What a waste of resource!
Hope this helps folks with questions.
I do not work for TalkTalk and any opinions I have are my own and not affiliated to TalkTalk
Gliwmaeden2
Problem Solver
Mark as New

Bookmark

Subscribe

Email to a Friend
It is not surprising - when we try to offer constructive criticism it is generally knocked down by forum elites and totally ignored by the powers that be.
I don't believe that our feedback is followed up.
I can't believe they respect our input on here or anywhere else - the current crop of people trying to get best offers applied when new deals are supposed to be matched for loyal customers but usually not; the same old promises of a given total being fixed for a particular term when the boosts part of the specified amount is in fact not fixed..... Endless amounts of customers' time being wasted trying to sort things out .... The only reason we don't jump ship is that they are mostly as bad as each other. It is an immature industry and they all have a long way to go before they start achieving professional norms and meetings expectations
Gliwmaeden2
Anonymous
Not applicable
Mark as New

Bookmark

Subscribe

Email to a Friend
Since our threads was abruptly merged. I have deleted mine.
I am new to TalkTalk and find the only customer service is through the forums. Which is a shame. One should be able to pick the phone up and get the answers one wants.
In my honest opinion TalkTalk would rather the members sort out issues between themselves with input from an OCE.
- Posts that moderators do not want shown are moved into the Spam Filter.
The solution to a complaint is by getting in touch with the CEO complaints management.
If TalkTalk cared they would correct the customer service issues.
When the services work well it is great. Unfortinately when my term is up in 15 months I will be returning back to SKY
Regardless of the increases.
If Ofcom really cared they would force TalkTalk to improve or revoke its license.