Remember when broadband landed and it felt like the future was here? Well, the arrival of Ultra Fibre Optic takes the Internet to another level. Find out all you need to know about the benefits of UFO, hear from some of our very happy customers and see how you can place your order.
---
It's the only broadband you'll ever need
Here are some of the benefits you can expect from UFO.


Fast
UFO's full fibre connection brings ultrafast speeds of more than 900Mb into your home. So you'll always get the best speed your phones, TVs, laptops and tablets can handle, when they're online at the same time.
Reliable
All other fibre broadband still uses old copper phone wires for part of the way. UFO has a new level of reliability so everyone gets the best performance even when they're online together.
Unlimited
UFO is totally unlimited so you can browse the web with peace of mind. We'll never slow you down, even at peak times, so you can enjoy a lightning fast connection all day, every day.
Exclusive
York is getting exclusive access to the future of the internet before the rest of the UK, although we'll soon be heading to other cities too. You can check availability in your area and sign up on the UFO website.
---
Don't just take our word for it
Over 90% of our customers say that they are satisfied with the UFO experience. Take a look.
"It's made a huge difference to our lives, everyone can be online together."
- Selina, mum of 4, Rawcliffe
"UFO has revolutionised my company. My repair times have slashed and I can take on a lot more work. I was with BT before and I wasn't getting a hundredth of the speeds I'm now getting."
- Jason Robinson, Owner, Intake Computers
"My system no longer groans when I send large files. It's given me instant future-proofing."
- Will, home business owner, Clifton Moor
---
Talk to us about UFO
If you'd like to find out more about UFO, you can chat with us online. If you'd prefer to speak to us over the phone, you can call our UK-based team between 8am - 8pm on 0800 230 0219.
You can also come and talk to our sales team at one of our Community Hubs detailed below, or arrange a home visit by calling 0800 230 0219.
Andrew
Aamir
Steve
Andrew
Mark
Dringhouses Library
Tadcaster Road, YO24 1LR
Thursdays 2pm - 4pm
Acomb Library
Front Street, YO24 3BZ
Wednesdays 10am - 12pm
---
FAQ's
Here are the answers to some of our most frequently asked questions.
Head over to our availability checker to see if UFO has landed in your area. If it has, you'll be able to place your order. If not, you can still register your interest and we'll let you know as soon as it becomes available.
You can also check our build schedule for information and updates about where we're currently building the UFO network and where we plan to build next.
The UFO connection into your home is more than 900Mb which allows you to get the most from all the phones, TV's, laptops and tablets in your household, at the same time. So you can be sure that you always get the best speeds your devices can handle. (For the fastest speeds you will need a high spec PC connected via an Ethernet cable.) Maximum speeds will depend on the performance and number of connected devices in your household.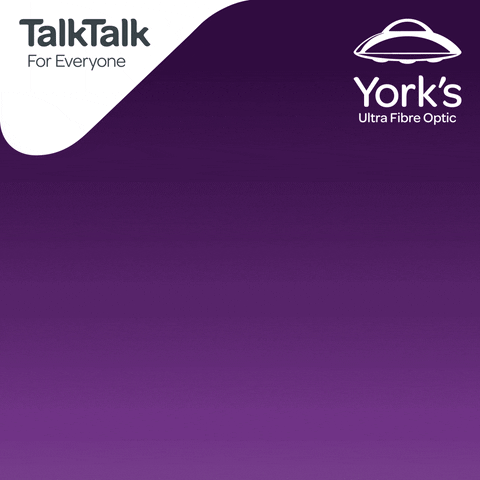 Full fibre or to use its more technical name, fibre to the premise (FTTP), uses a single fibre optic to connect homes businesses all the way back to the exchange, so everything you do online literally travels at the speed of light.
Need to speak to our team?
Our experts are here to help, select one of the following contact options:
My TalkTalk App
View your bills, keep tabs on your usage and message our team.
MyAccount
Manage your boosts and check the status of your service.
To help us deal with your query quickly, please confirm the following information when you write to us. We will aim to respond in writing to your query in 10 days.
- Your full name
- Your TalkTalk Phone or mobile number
- Your Signature
TalkTalk Correspondence Dept
PO Box 675
Salford
M5 0NL
All letters will be sent to the primary billing address unless stated otherwise. Please also include the best way to contact you about your query, such as your contact phone number or contact address.
For help with your UFO service call: 0800 230 0272
To place an order for UFO call 0800 230 0219 or visit talktalk.co.uk/ufo
Make sure you have your account details to hand when you call.
Calls are free from your TalkTalk phone, our customer services team are available 8am-8pm, Technical Support 24/7 every day. If you're deaf, hard of hearing or speech-impaired, the Text Relay Service can be used to help you contact us, simply dial 18001 followed by 0800 230 0219